H.M. Fishbon Memorial Library
Fishbon Video Newsletter
Issue 8 - December 2005 - Mount Zion Chronicles
This special issue of the Fishbon Video Newsletter is a summary look at the history of Mount Zion Hospital from 1887 to the present day.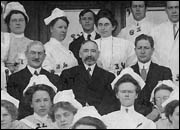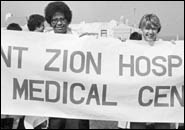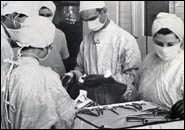 For help viewing video files, click here.
Click to play: Windows format
Run time: 10 minutes
File size: 19MB
Click to play: Quicktime format
Run time: 10 minutes
File size: 24MB

---
Issue Archive
Issue 8, December 2005, Mount Zion Chronicles
Access to earlier issues of the newsletter is available upon request. Email the Library at fishbon@ucsfmedctr.org.
---
Help Viewing Files
If you are having difficulty viewing these files, you may want to consider upgrading to the latest version of the Apple Quicktime player, or the Windows Media Player.
Other factors which can influence playback quality are the speed of your computer's processor, the amount of memory your computer has available and the amount of cache allocated in your browser preferences. You can empty your browser cache or clear your temporary internet files in the preferences or internet tools section found in your top menu bar.
Firefox users: When playing a video using Windows Media Player, if the video image is either invisible or disappears when you click a control, you need to adjust the plugin settings:
When the player is active, right-click on it and select 'Options...'
At the bottom of the window should be a 'Video Acceleration' option. Change it from full to half (or to zero, if needed) by moving the slider.
Users may also need to upgrade or replace their old Firefox Windows Media Player Dynamic Link Library Plug-in with the newer Firefox Windows Media Plugin. Instructions can be found here.
Resources for Patients
Patients and visitors can learn more about the resources available to them at the UCSF Patient Health Library website.