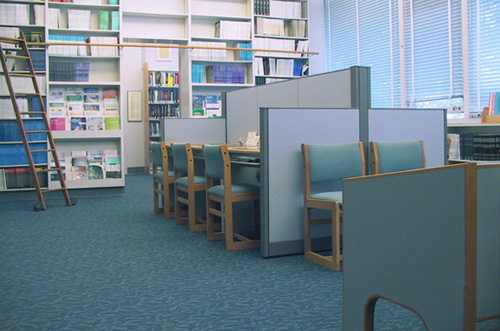 Meeting medical information needs at Mount Zion for more than 80 years
Update: Library access April 25 – May 6
The Library will be closed to public access from Monday, April 25 through Wednesday, May 4.
The Library will be open Thursday, May 4 and closed Friday, May 6.
Librarians will be available by appointment. Please call:
Patients and Families: 415-885-7285
Medical Center Staff: 415-885-7378
The Fishbon Library has served the information needs of clinicians and allied health professionals at Mount Zion for more than 80 years. As part of an organizational change, the library is now aligned with the Institute for Nursing Excellence within the Medical Center's Department of Nursing. With this change, the library has modified its primary mission: to support the education and research needs of our nurses and non-academic medical center staff in support of evidence-based practice.
The Library remains open to all UCSF affiliated staff, but requests from faculty and non-medical center staff may be referred to the UCSF campus library. Campus liaisons are available to assist all faculty with their education and research needs.
The Library will continue to be a place for library database access for all UCSF affiliated staff, as well as for health information resources for patients and families.
---
Nursing Resources
The Nursing Resources website, maintained by the Fishbon Library, provides links to:
bibliographic and full-text databases
resouces supporting drugs, evidence-based practice, and integrative medicine
information on professional nursing organizations
selected resources for patients and families
Off-campus access to resources
Learn about options for remote access to UCSF journal and database subscriptions and other full-text resources.
Selected new books
See a list of all new books.
UCSF Institute for Nursing Excellence
The Fishbon Library is a part of the UCSF Institute for Nursing Excellence: dedicated to sustained skill-acquisition, life-long learning and clinical inquiry that promotes excellence in family care.