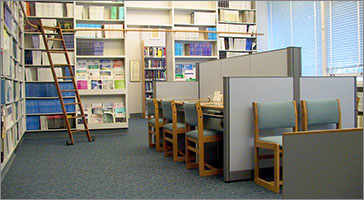 H.M. Fishbon Memorial Library
meeting medical information
needs at Mount Zion for more than
eighty years ...
Scopus is now available from the UCSF Library on a trial basis through the end of 2014!
Provides 100% coverage of Medline and Embase
Contains 53 million records from over 21,000 publications, including peer reviewed journals, trade publications, conference papers, books, and more!
Tracks who's citing your papers
Features tools to track, analyze, and visualize research
Please take some time to search Scopus and fill out the user survey to let the UCSF Library know what you think about it.
For more information and access to Scopus, visit http://www.library.ucsf.edu/content/scopus-available-trial-basis-through-2014
Library Offers Loansome Doc Services
The Fishbon Library is a participant in the National Library of Medicine's Loansome Doc program – allowing users who are unaffiliated with a medical library to request articles found using PubMed.
Off-campus access to resources
Learn about options for remote access to UCSF journal and database subscriptions and other full-text resources.