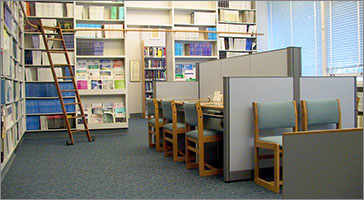 H.M. Fishbon Memorial Library
meeting medical information
needs at Mount Zion for more than
eighty years ...
4th Annual Teaching and Learning Center Day
TLC Day 2014
Thursday, October 9
Parnassus Campus Library
The 4th annual Teach and Learning Center Day will take place on Thursday, October 9 at the Parnassus Campus Library. TLC Day will feature free hands-on workshops on simulation, tools and technology at UCSF, and innovative uses of technology.
Keynote speaker Dor Abrahamson, Associate Professor at the Graduate School of Education and Director of the Embodied Design Research Laboratory at UC Berkeley, will lead a discussion on the concept of embodied design -- a pedagogical framework based on the theory that cognition is grounded in bodily experience and therefore students can develop their understanding of complex and seemingly abstract concepts through physically grounded learning activities.
Library Offers Loansome Doc Services
The Fishbon Library is a participant in the National Library of Medicine's Loansome Doc program – allowing users who are unaffiliated with a medical library to request articles found using PubMed.
Off-campus access to resources
Learn about options for remote access to UCSF journal and database subscriptions and other full-text resources.