Interlibrary Loan Services
Get journal articles, chapters, books - fast and free (mostly). Our Interlibrary Loan Service:
Has access to thousands of libraries
Specializes in really fast delivery
No forms necessary
Submit your requests via phone or email:
Along with your request, be sure to include:

your contact information
deadline (e.g., ASAP, next week)
delivery preference (PDF, hard copy)

You can even send your request directly from PubMed via the Send to button: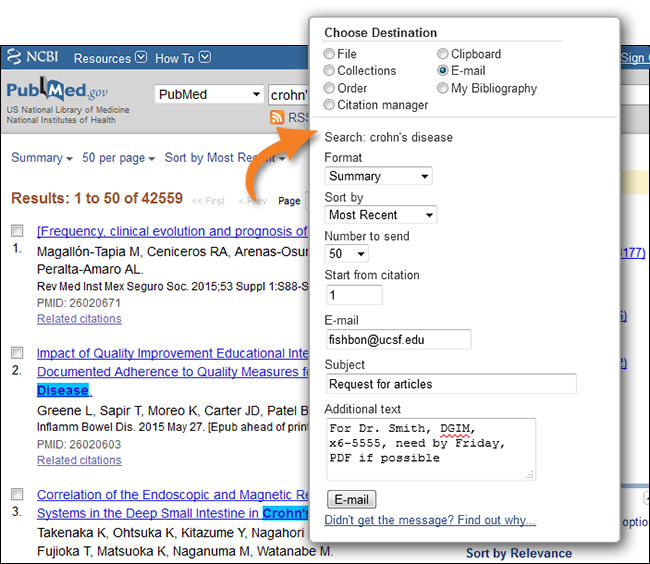 These services are for UCSF Medical Center nursing and non-academic staff.
---
WARNING CONCERNING COPYRIGHT RESTRICTIONS
The copyright law of the United States (Title 17, United States Code) governs the making of photocopies or other reproductions of copyrighted material. Under certain conditions specified in the law, libraries and archives are authorized to furnish a photocopy or other reproduction. One of these specified conditions is that the photocopy or reproduction is not to be "used for any purpose other than private study, scholarship, or research." If a user makes a request for, or later uses a photocopy or reproduction for purposes in excess of "fair use" that user may be liable for copyright infringement. This institution reserves the right to refuse to accept a copying order if, in its judgement, fulfillment of the order would involve violation of copyright law.
Resources for Patients
The Fishbon Library has Quick Links to trusted information resources.