Ask a Librarian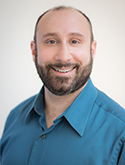 Ari Kleiman, MLIS, is the Fishbon Library's Clinical Research Librarian for Patient and Family Support. Contact Ari when you need health information. Ari helps people with all kinds of health and medical questions: diseases and conditions, treatments, finding clincial trials, health and wellness, the use of online resources — you name it and he will try to help!
Some recent questions
Is there immunotherapy for ovarian cancer yet?
What do we know about the new prostate cancer diagnostic: 4K score? Is there any research on this that was not funded by the makers of the test?
How does the cardiopulmonary bypass machine work during surgery for mitral valve repair?
What are good protein sources for a vegetarian diet?
Information provided by the Fishbon Library is for educational purposes only and is not intended as a substitute for medical treatment by a health care professional. Patients should consult their health care providers to determine the appropriateness of the information for their situation.