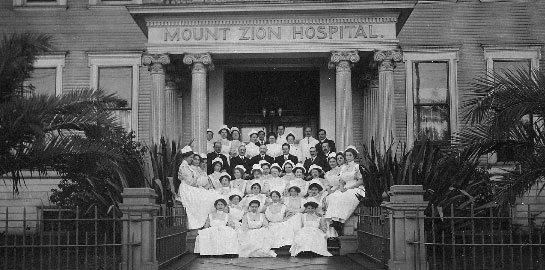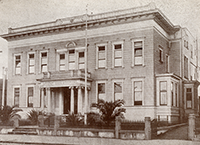 Mount Zion History
On November 3, 1887, 43 members of San Francisco's Jewish community met for the first time to plan a hospital in the San Francisco area "for the purpose of aiding the indigent sick without regard to race or creed, to be supported by the Jewish community."
It took almost ten years for this dream to become a reality. The hospital began operations under the Mount Zion Association in January of 1897. With the strong support of the three San Francisco rabbis, Jacob Voorsanger of Emanu-El, Jacob Nieto of Sherith Israel, and Myer S. Levy of Neth Israel and the generous contributions of Baroness de Hirsch Gennth, a wooden dwelling on the south side of Sutter Street was purchased for $15,000. Remodeled, it was dedicated on May 7, 1899.
Click here to view an inventory of the Archives of Mount Zion Hospital. These Archives are held at The Magnes Collection of Jewish Art and Life at The Bancroft Library. Members of the public may examine the materials by appointment only. Contact information:
The Magnes Collection of Jewish Art and Life
The Bancroft Library
University of California, Berkeley
Berkeley, CA 94720-6000
Tel: (510) 642-3781
Mount Zion at the Online Archive of California
The Fishbon Library maintains a record of its own selected archival materials at the Online Archive of California.
The Hellman Building, Celebrating 100 Years at Mount Zion
Watch a short video of the Celebration which took place on Saturday, June 18, 2011