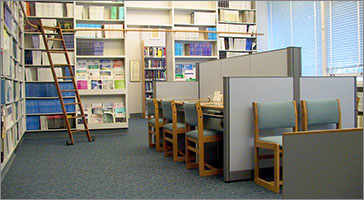 H.M. Fishbon Memorial Library
meeting medical information
needs at Mount Zion for more than
eighty years ...
Off-campus access to resources
Learn about options for remote access to UCSF journal and database subscriptions.
Recent Mount Zion Authors
The faculty and researchers at UCSF Mount Zion are quite prolific - view our list of recent articles published by Mount Zion authors - including links to the PubMed abstracts.
Library Offers Loansome Doc Services
The Fishbon Library is a participant in the National Library of Medicine's Loansome Doc program. Loansome Doc is a feature of PubMed which allows users who are unaffiliated with a medical library to request articles found using PubMed.
Learn how to register as a Loansome Doc user